Dave & Johnny is a popular company that designs and manufactures dresses for special occasions, including proms and weddings. The company's designers stay on the forefront of fashion, taking the latest trends in the world of design and fashion and incorporating them into their designs.
Their dresses are characterized by simple elegance, flirty designs, and sophisticated looks with unique accents. They offer a large range of styles in sizes ranging from 0 to 18, and they come in a wide range of colors and materials.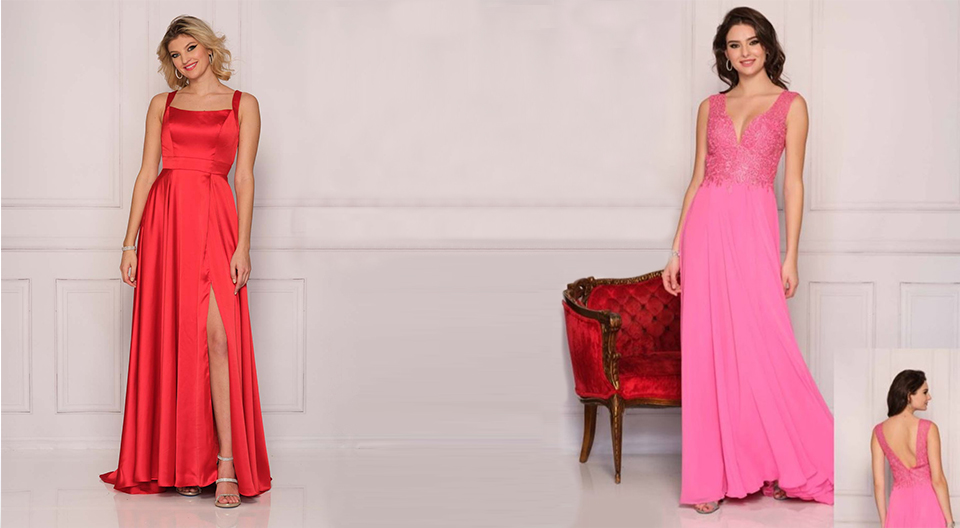 Affordable to Everyone
For over 30 years, Dave & Johnny has created stunning prom and special occasion gowns. Their designs are known for their sophisticated silhouettes and unique accents. They also offer an extensive range of styles and colors that are affordable for even the most budget-conscious shoppers. From halter necklines to strapless dresses, Dave & Johnny is sure to have something to suit your unique style.
From prom and wedding gowns to social events and formal events, there's a dress for every occasion and budget. They offer dresses in the most popular sizes, from 0 to 18, in a variety of colors and fabrics. Plus, they're available in an affordable price range so you can buy one and show off your style with confidence.
Whether you're shopping for an evening gown or a formal dress, affordable Dave & Johnny dresses can make your night on the town unforgettable. Their designs feature elegant details and a comfortable fit, and you'll be looking sexy for years to come. Plus, you'll be able to wear them again, too! Just remember to accessorize accordingly to make sure you look your best.
These affordable Dave & Johnny designer dresses offer a striking look with an emphasis on classic taste. With hems that hit the knee, you'll look like a princess in these beautiful dresses. Plus, you'll be able to wear them to multiple events and make your style statement.
The sexy and sophisticated designs of these dresses make them a perfect choice for any special event. The designers of this label have drawn inspiration from couture styles around the world to produce gorgeous dresses that you'll be proud to wear. What's more, you'll find them at affordable prices, making them a perfect choice for any special occasion.
Highly Versatile
The Dave & Johnny designer dress collection provides a variety of styles and colors for a unique and versatile look. These dresses are also designed to be re-wearable with the right accessories. The dress styles are both flattering and sophisticated. The patterns, colors, and cuts of Dave & Johnny dresses are a great mix of form and function.
The designs of Dave & Johnny designer dresses are perfect for any social occasion. They are stylish and affordable and feature unique beading and detail designs. There is a dress for any occasion, whether it's a prom, a special day, or a wedding. The dresses range from 0 to 18 inches in length and come in many colors.
The affordable designer dresses by Dave & Johnny are made with great attention to detail. They range from sexy fit-and-flare dresses to modest high-neck designs. You can also find dresses with jewel-embellished appliques or sheer illusion bodices. The dresses from Dave & Johnny are ideal for special events and proms and will be a great way to celebrate your special day.
Sophisticated for Everyone
The Dave & Johnny line of dresses has a distinct style, with detailed designs and embellishments. The line also features a wide range of colors, making it a great choice for any occasion. If you are planning to purchase a dress from this line, you should know that each dress is cut according to a specific size chart. This means that sizes 0 to 16 will fit most women comfortably. Despite their unique sizing systems, however, you should be aware that they may run a little larger than the usual sizes for designer dresses.
The details on each dress are very impressive and show great attention to detail. The designs evoke artistic inspiration, such as the Satin Shiffon Printed Landscape Inspired Evening Dress, which evokes a Monet painting. In addition, these dresses are versatile enough to be worn with a range of accessories. Choosing solid-colored shoes and bags will help balance the busy pattern.
While it may be tempting to buy a trendy dress right away, it is essential to consider your body type and occasion to get the most out of your new dress. Although many women prefer a conservative look when it comes to formal events, Dave & Johnny designer dresses will make you feel like a princess. They can even turn heads, especially if you wear them to a formal event.
In addition to looking beautiful, Dave & Johnny designer dresses are also affordable. They are popular among students and feature a combination of stylish details and flirty cuts. These designs are also available in a variety of colors and sizes. Many of the dresses have two-piece designs for a more dramatic look.
Wide Variety of Colors
Whether you're dressing for a formal event or simply a night out on the town, you can find a perfect dress in the Dave & Johnny collection. These dresses are designed to be classy and glamorous, with detailed designs and beading. Choose from strapless styles or classic halter necklines that will turn heads.
Dave & Johnny designer dresses come in a variety of colors and styles. These dresses are perfect for social gatherings, including weddings. Each style features beading and details that are a unique addition to the clothing. You can find something for every occasion with the designer dresses from this line. They are designed to fit most women and are priced well.
Dave & Johnny offers many styles for both formal and informal occasions. Their collections feature detailed lace and beaded finishing for a stunning, glamorous look. They have gowns in a variety of colors, from blush tones to bold hues. You can even find multiple hues in one dress.
Suitable for Various Occasions
If you are looking for a dress that will suit a wide range of occasions, look no further than a Dave & Johnny design. The brand's designs have an outstanding attention to detail and are inspired by artistic themes. For example, the Satin Shiffon Printed Landscape Inspired Evening Dress evokes the feel of a Monet painting. The dresses can easily be paired with a range of accessories. Solid-colored shoes and bags complement busy patterns.
If you're in the market for a dress for a special event, look no further than Dressmeupny, which offers limited sales on many of the designer's pieces. Plus, they ship worldwide.
These dresses are affordable and feature fabulous details. You can choose from trendy fit-and-flare styles to sexy high-neck designs. The designers' inspirations come from couture fashions around the world, and their dresses can be both flirty and sophisticated. They also feature a variety of colors and accents.