If you're unsure about "How to Choose your perfect Mon Cheri Wedding Dress?" there is no need to worry now. Wedding magazines are an excellent resource for learning about the different styles and silhouettes of wedding dresses. You can also clip or print out pictures of dresses you like and note the details. This way, you'll know what to look for when you go dress shopping. Make sure to ask about alterations and other unique information. Here in this article, we will present a comprehensive guide on choosing your best Mon Cheri Wedding Dress.
1.Identifying your body type - The Very First Step
To pick the perfect Mon Cheri wedding dress for you, it helps to know your body type. Different silhouettes flatter different body types.
For curvy brides, adding definition to your core is essential.
Flared dresses will tone your lower half while adding definition to your top.
To balance out your shape, select a style with volume.
You can also choose one that is a bit shorter than your natural waistline.
An hourglass figure is ideal for an empire-shaped dress, as the voluminous style accentuates the bust's shape. If your figure is athletic, you should choose a fit-and-flare wedding dress, which is more fitted and less rigid than an empire-shaped dress. Those with a pear-shaped figure should avoid dresses with an empire waistline since these styles can hide a thin waist.
A-line bridal gowns will emphasize the top half of your figure. Brides with diamond or triangle-shaped busts should consider a low-back wedding dress, as they will appear more significant than their natural ones. A plunging V-neck style can accentuate your breasts for women with a pear-shaped bust. And for women with hourglass figures, an a-line or trumpet-style gown will highlight their best features.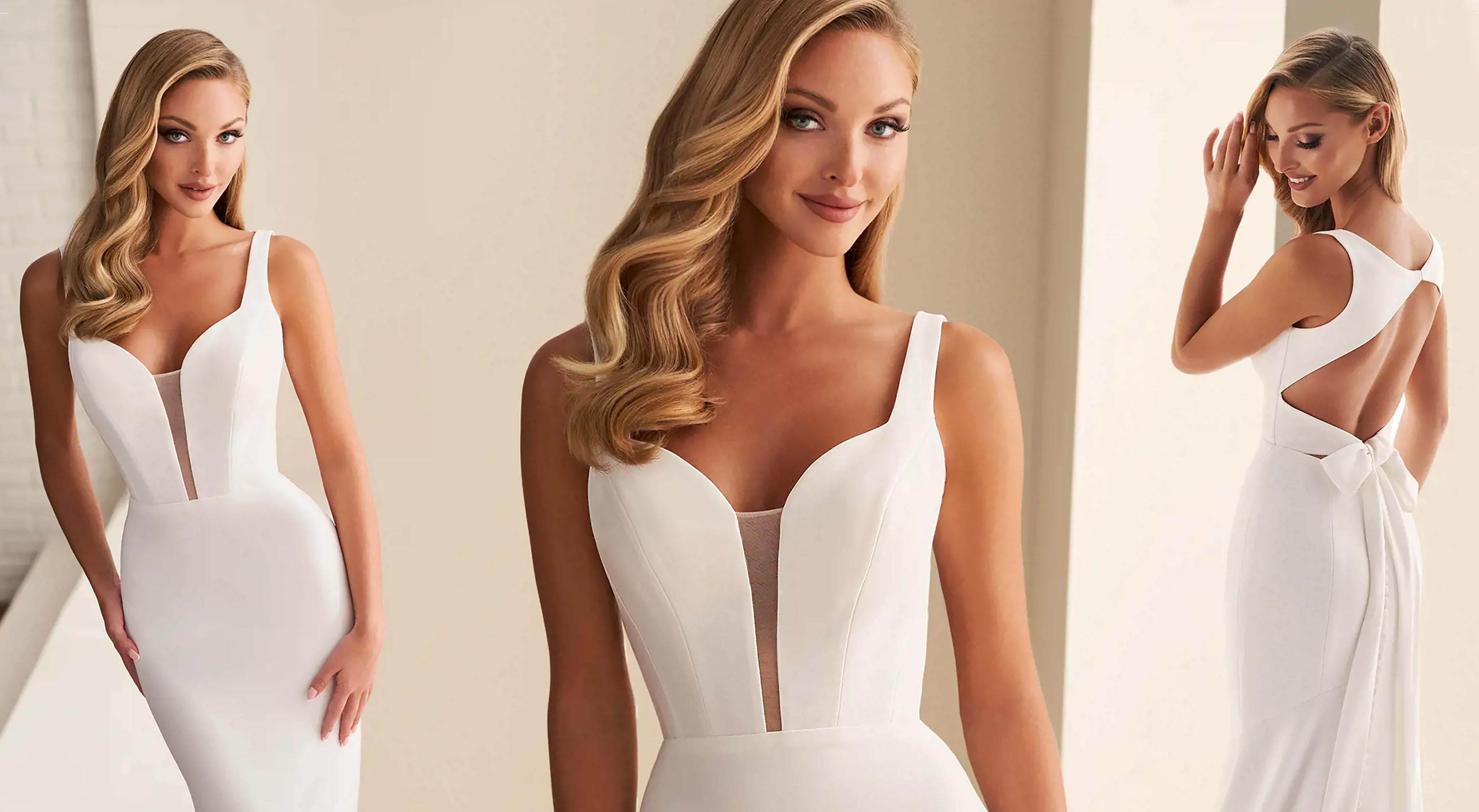 Women with athletic figures should select Mon Cheri wedding dresses emphasizing their sculpted shoulders and neckline. Sleeves with a lace-and-bead detail can accentuate this shape. They should also choose dresses with a sweeping skirt. Lastly, a high-neckline wedding gown can hide the bra straps. The fitting silhouette will flatter your natural shape. So, be sure to identify your body type before you begin your search for your dream wedding dress.
2.Identifying your silhouette - Essential to considering
Choosing the right wedding dress for your body type is essential for a beautiful wedding day. Many different silhouettes are available, but you should know which one best suits your figure. Knowing your shape will help you choose a dress that compliments your figure but also fits perfectly. Here are some tips to help you find the perfect wedding dress. If you're unsure what silhouette you have, ask a stylist to help you determine your shape.
Once you've determined your silhouette, you can narrow your selection to a few favourites. Create a private Pinterest board where you can pin your favourite wedding gowns and keep them in one place. When looking through dresses, look for recurring details and familiar designers. Identify a common theme in different silhouettes to narrow your choices. In addition, you can narrow down your search by colour and fabric.
Choosing a fitted silhouette for women with an hourglass shape will highlight your best assets. A dress with a high waist will accentuate your curves. If you're in a Rectangle shape, avoid styles that hug your waist. Instead, look for a dress with a curved profile to flatter your figure. But don't forget to keep in mind that there's no right or wrong body type!
3.Identifying your budget - Should Pay Attention.
Once you know your style, the next step is identifying your budget. While many brides purchase their dream Mon Cheri Fashion Designer wedding dress from the comfort of their homes, there are some things that you should keep in mind. Identifying your budget before shopping is essential, especially if you purchase several dresses. It's also important to consider the costs of the alterations if you want to have the best dress.
Identifying your budget is a great way to avoid overspending. Knowing your budget before you shop for a wedding dress will prevent you from overspending and falling in love with a dress that doesn't fit within your budget. Be sure to take measurements of your body before shopping for your wedding dress and factor in the cost of your shoes. A wedding dress is an investment for the bride, so it should be as beautiful as possible.
Once you've determined your budget, it's time to identify your desired style. The cost of a dress is generally about 10% of the cost of a wedding. However, it can change depending on the other expenses. Some brides prioritize the venue or the catering, so you'll have to work out a total budget before you begin shopping. Then you can allocate the remaining costs to your dream wedding dress.
4.Identifying your style - Very Important
Identifying your style is the first step in finding the perfect wedding dress. You will want to choose a designer that understands your taste and style. It is also essential to identify the type of venue you'll be attending.
Indoor Events
If your ceremony is held indoors, then you'll want a dress that will be comfortable to wear in an air-conditioned venue. The last thing you want is to buy a wedding dress that doesn't fit.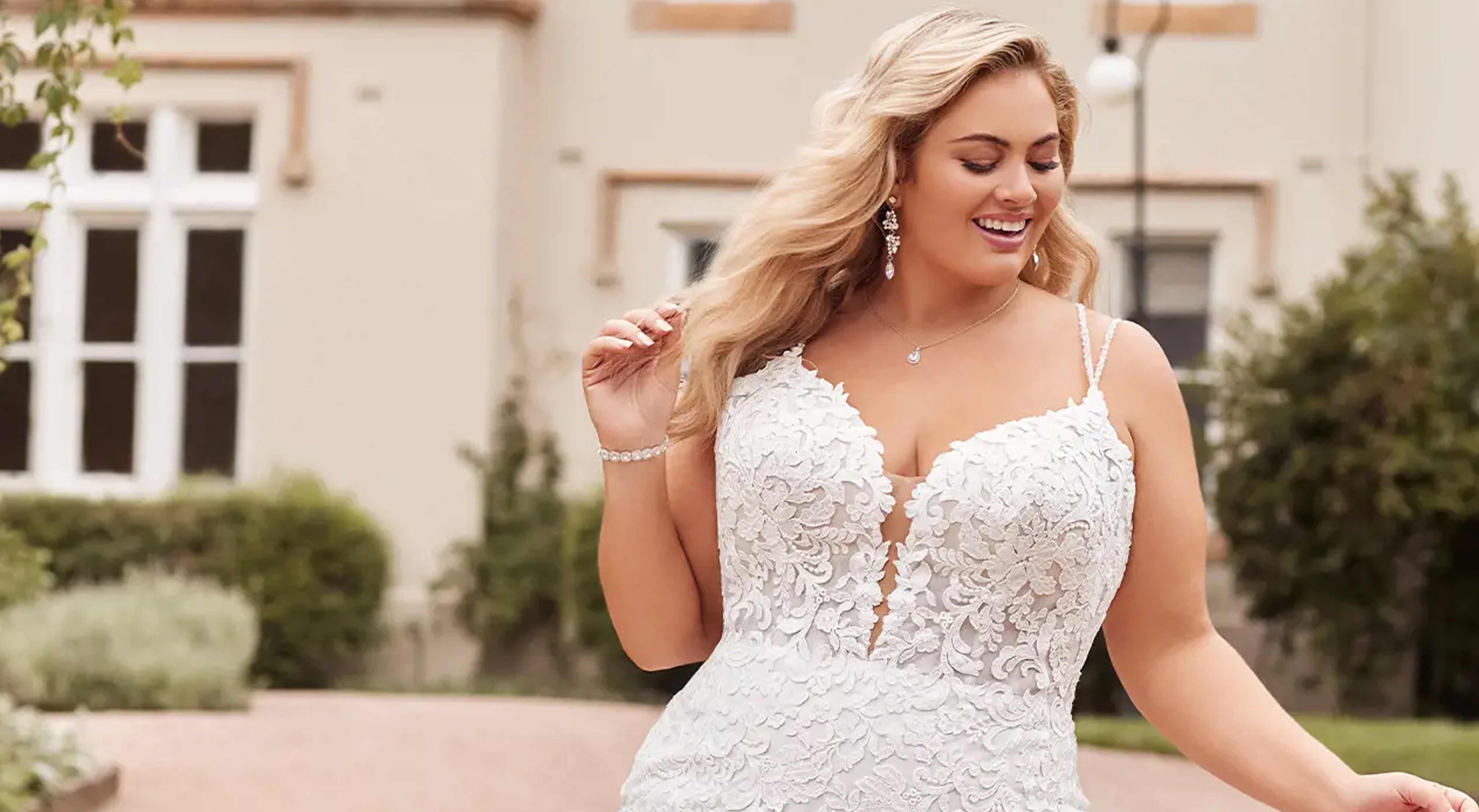 Outdoor Events
If you're getting married outside, consider hiring a designer specializing in designing wedding dresses for people in your style. Mon Cherican be an ideal pick for you.
If you have a full figure, try wearing a gown that accentuates your waist and hips. You can try different styles until you find the style that flatters your figure. Give your stylist plenty of time to find a dress that fits you perfectly. Most dresses are handmade and take at least six months to be made. A designer skilled at creating custom dresses will give you the best fit possible.
Identifying your style will make the selection process much more manageable. Many brides get intimidated by crowds and feel there is no such thing as the perfect wedding dress. However, if you're going to try a dress online, make sure to check out the return policy first. If you don't have time to try on dresses, consider shopping alone or with a friend. You'll be happier with the results.
5.Choosing a dress that feels right for you
When shopping for your wedding dress, you don't want to worry too much about trendiness. Instead, you should choose something that fits you and your personality. Try on several dresses, and don't worry if you get goosebumps while trying them on. After you buy the dress, you can try it on again if the fit still feels off. Ultimately, the wedding dress will be your most important accessory, so try it on as often as possible.
Choosing a wedding gown that feels right for you starts with knowing exactly what you're looking for. First, you need to know your body shape and figure. Try on as many dresses as possible to find the one that flatters you best. Once you've chosen the shape and style of your dream wedding dress, work with your stylist to ensure that the final product fits and flatters your figure. Choosing a designer who understands your body type is also crucial, as your designer will work with the dress for a long time to fit you properly.
Whether you're planning a summer or winter wedding, many styles of wedding dresses are designed for the season. A summer wedding may call for a flowing dress with a slinky effect. Whatever your wedding theme is, there's a dress that will flatter you perfectly. And the right accessories will make your dream wedding day even more memorable! So, take time to find the perfect wedding dress, and don't worry if others comment or judge your choice.
Concluding Words
When choosing a wedding dress, you should research the designers who offer dresses in your price range. If you are looking for stylish yet affordable fashion designer wedding dresses, then Mon Cheri can be the best option for you. If you find a designer who is inexpensive but does not offer your dream wedding dress, you may be setting yourself up for disappointment. We have a wide range of Mon Cheri wedding dresses on our website.