Although prom has always been a considerable occasion, this year feels more significant after 3 years of will-it-won't-it uncertainty. Finding the ideal prom outfit can make you want to enjoy it even before the big day, and fortunately, prom night this year has plenty of style inspiration.
Suppose you are certain of the style you want but need some specific options. Finding the ideal prom dress can be difficult, especially if you are small-framed.
Relax, you can unwind knowing that we'll help you discover the ideal prom dress to accentuate your short form.
Prom Dresses For short Girls
The top prom dresses for shortgirls are listed here. Don't forget to save your favorites to Pins so you can access them later and discuss them with your Facebook and Twitter friends!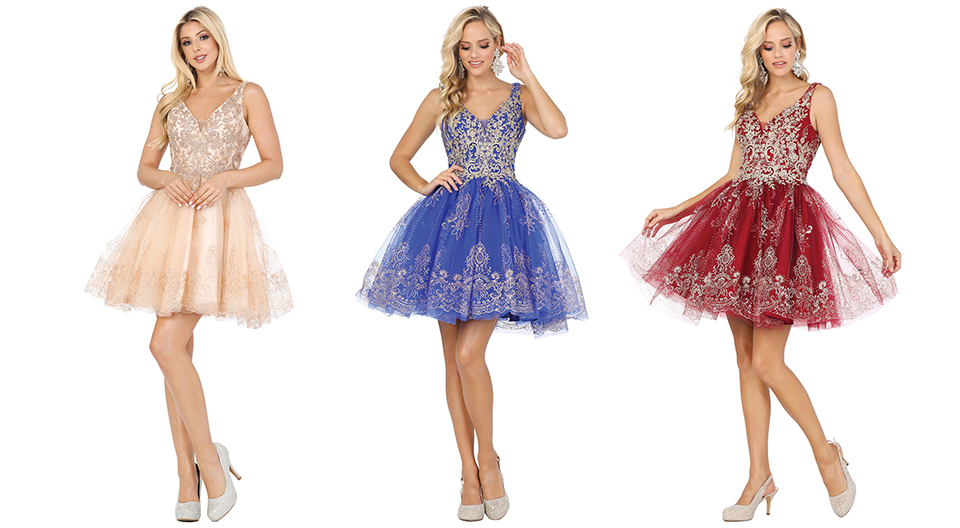 Look At Design
Look for these patterns in your prom dresses if you are short.
Side opening
If you are short, always search for a slit on your dress whether you are choosing it for prom or any other occasion!
Because they let the eye catch a glimpse of your flesh and provide the appearance of longer legs, side slits are particularly attractive for short girls.
Tip: As much as the prom dress does have a slit, it will provide you the exact advantage of lengthening your diminutive frame and flattering a short lady, whether it is in the middle or on the side.
Low-cut hem
For the past few seasons, the high-low hem has been a very popular trend. This type of dress is shorter in the front but longer in the back. Longer prom dresses frequently feature this type of pattern, which can otherwise be too much for petite women.
Because the hem is shorter from the front, your thighs will look longer, making this prom dress' very straightforward design complement a short girl.
Optimal Necklines
The neckline is important to consider while selecting the ideal prom dresses for short girls that fit you perfectly. Wearing a prom dress with a unique neckline can enhance body flattery by drawing attention to your face.
Fortunately, you can choose from a wide range of neckline designs.
Off shoulders
Off-the-shoulder prom dresses are a heavy send for you if you're small and have a pear shape. The reason is that it gives the upper half of your physique a little more prominence, improving balance and giving you a pear shape.
Heart-shaped neck
One of the best necklines for females with large breasts is this one. It definitely draws focus to your face and highlights your best features, which is incredibly attractive for short girls.
The sweetheart neckline can provide the appearance of a bigger chest for you if you happen to be a tiny lady with a flat chest and adds some twists to your physique.
V-shaped neck
V-necklines are excellent for giving the appearance of a longer shape. The V-neck is a great option since it will make your collar look longer as most small girls have shorter necks.
If you have a large chest, the V-neck will also divide up your chest, giving you a more proportionate appearance in the front.
Perfect Silhouette
The silhouette has a significant impact on how a dress looks on you. The most figure-flattering prom dresses for small ladies are typically those with simple shapes. Simple styles accentuate your small frame, whereas more complex silhouettes frequently overpower you.
The most attractive silhouettes for prom dresses for short girls are listed here.
Slim & fit
The most universally attractive prom dress design is this one. Your upper body is well-fitted, but your hips are not constricted by it. Thus, it is appropriate for all body types.
Fit and flare is the perfect technique to draw attention away from your flaws while simultaneously highlighting your strengths if you have an apple or a pear body type.
The A-line dress can conceal the apple shape's wider middle while emphasizing its attractive breasts.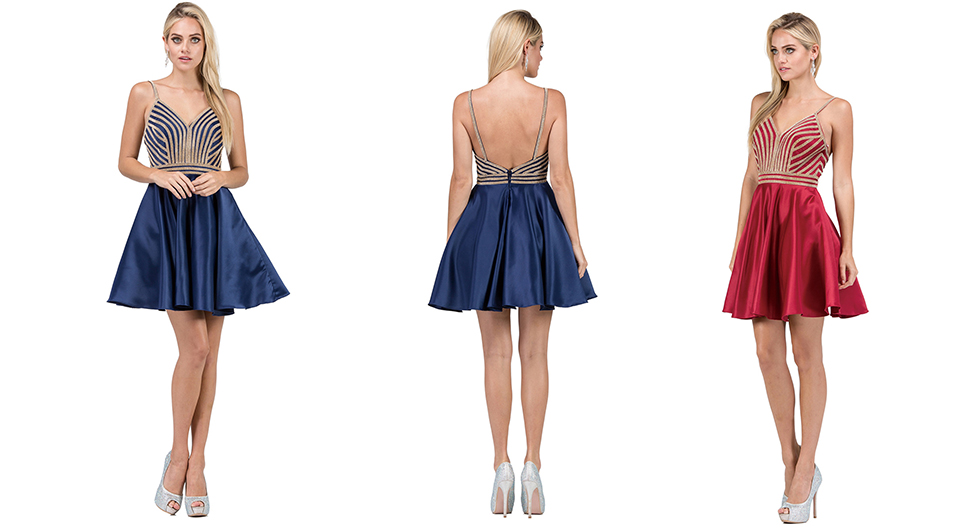 Mermaid silhouette
The mermaid form dresses will highlight your best features and truly make your full bosom and full hips stand out if you are a tiny girl with natural curves. Your upper section and hips are closely hugged by the hourglass-shaped mermaid dress.
This dress silhouette is the most feminine of all possible dress silhouettes, making it a fantastic option for females who wish to flaunt their curves.
Column silhouette
Perhaps this is one of the effective techniques to accentuate a short frame in this way. Sometimes a column silhouette is referred to as a sheath dress. Although the design of the dress is perfectly straight, it has a close fit to the body.
Note that column outfits do not attach to your body, they vary from bodycon dresses in this regard. Column dresses, on the other hand, skim your body for a more flexible silhouette.
Ideal printing
The print or pattern's actual size should be taken into account. A floor-length gown with a really huge print will be too much for a little frame. This advice is true regardless of the dress's designs, patterns, or accents. The more simplified the design, like the silhouette, will more attractive it will be for you.
Because of the pattern and length, the dress will be wearing you rather than the other way around. Instead, pick a print or design with a scale that is more appropriate for your little body.
Additionally, vertically inspired motifs tend to look more feminine on petite girls. Vertical patterns generate the appearance of length and make you look taller since they attract the eye up and down.
Additional Tips For You
●The secret to appearing wonderful on the exterior is to feel secure on the inside. Choose a dress you adore.
●Changes are essential! You'll probably need to get the dress hemmed if you have your heart set on a lengthy prom dress.
●Accept high heels! Being short has its advantages, one of which is the ability to wear a pair of insanely great heels.
Conclusion
These were created with our ongoing pursuit of excellence in mind. When you are short, prom dress shopping might be a nightmare! While color-blocked gowns make you appear even shorter, puffy dresses might swallow you whole.
You cannot have too much sparkle for a female, so don't be afraid to glam it up a little with some diamonds or beads. Stop looking through pricey merchants!